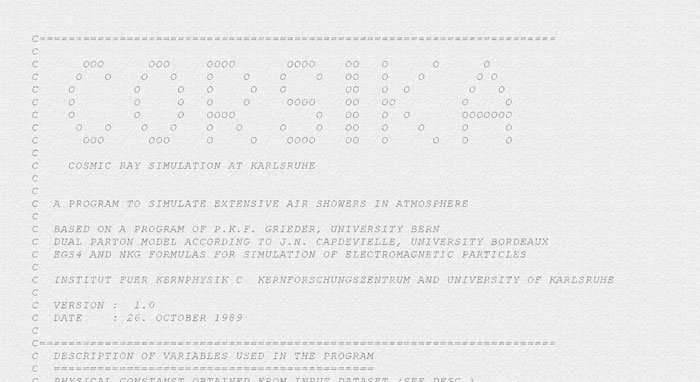 CORSIKA v1.0 was released on Oct. 26, 1989.
The air shower simulation program CORSIKA turned 25 years old last October. CORSIKA is a detailed Monte Carlo program to study the evolution and properties of extensive air showers in the atmosphere. Its first version 1.0 was issued on Oct. 26, 1989 and was primarily designed for the requirements of the KASCADE experiment.
In the design phase 1988 of the KASCADE experiment physicists were lacking an adequate cosmic air-shower simulation program. As no well-documented code could be obtained at that time the development of CORSIKA (COsmic Ray SImulation for KAscade) was initiated. The CORSIKA program allows to simulate interactions and decays of nuclei, hadrons, muons, electrons, and photons in the atmosphere. It gives type, energy, location, direction and arrival times of all secondary particles - above a selected - that are created in an air shower.

From the original code of 1989, CORSIKA has then been extended to TeV gamma ray astronomy to be used by high-energy experiments such as the MAGIC telescopes in La Palma and the H.E.S.S. telescopes in Namibia.
Further developments has coupled CORSIKA with other programs to describe hadronic interactions at lower energies and to enable the production of neutrinos, Cherenkov radiation, and radio emission with CoREAS.
In 1996 the upcoming(!) Pierre Auger Observatory required extra special features. To deal with the size of the ultra-high energy cosmic-ray showers, only a so-called thin-sampling of few selected showers are followed and accordingly weighted, while the bulk of particles is dropped to save CPU-time. This thinning has enabled simulations at highest energies within a reasonable time. Numerically solving the differential cascade equations for the different type of particle within a shower was also especially suited for the fluorescence detectors of the Pierre Auger Observatory.
CORSIKA is nowadays used by nearly 1 000 scientists in more than 50 countries and has become a reference program for all experiments dealing with extensive air showers induced by high-energy cosmic rays, gamma rays or neutrinos up to energies of some 100 EeV.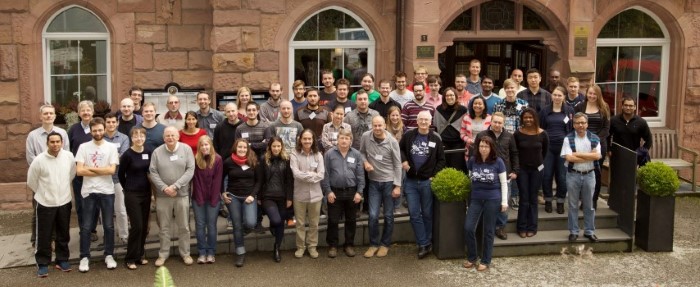 More than 60 participants attended the CORSIKA School 2014 for the 25th anniversary of CORSIKA. The school is intended to provide PhD students and young researchers the knowledge needed to simulate and understand extensive air showers.