The Logo of the Helmholtz Alliance for Astroparticle Physics consists of a combined mark of picture and words. Neither the word mark or the picture mark should be used alone.
The background of the Logo has to be, and only be, white or "Helmholtz-blue".
The "Helmholtz-Blue" is the spot color Pantone 301 C (coated), respectively 300 U (uncoated).
Color specifications of the "Helmholtz-blue":
100C 50M 0Y 18K
0R 88G 156B
#00589C
RAL 5017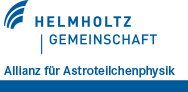 German Logo of the Helmholtz Alliance for Astroparticle Physics
Download: Blue RGB JPG | Blue CMYK EPS l PAN C EPS l PAN U EPS l Black EPS l White EPS l White on Blue CMYK EPS l White on Blue RGB PNG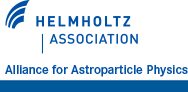 English Logo of the Helmholtz Alliance for Astroparticle Physics
Download: Blue RGB JPG | Blue CMYK EPS l PAN C EPS l PAN U EPS l Black EPS l White EPS l White on Blue CMYK EPS l White on Blue RGB PNG